Hi, I adopted Tubbs at the begining of September 2012. He's just coming up for three months now. What a wee darling he is! I've never owned a hedgie before but was told he is especially good natured. I'd certainly agree with that - he hisses sometimes and then walks towards you - I think it's more to do with sudden movements. He had two very grumpy days and balled up for his one and only time, but I found quite a few quills then so he was probably uncomfortable. Apart from that his spikes are hardly ever up.
He settled quickly and within a few days started climbing onto my hand when I put it into his cage. He is very active and nosey but only if the lights are low. He's into mountaineering now and is improving in his attempts to climb the back of the couch. His favourite thing is to climb round the back of my neck and pull and tangle himself in my ponytail - he plays there for ages and can give it a right good tug! I've noticed he makes snorfely whistling noises then, so I guess he's happy? He trashes his cage nightly and has taken to sleeping under his floor fleece instead of his nest.
I have discovered how easily these wee creatures can get into trouble due to struggling to reverse. I keep a close eye on him because so far he's climbed into my pocket and couldn't turn and got his head stuck in a small box because of his quills. He also shows the lemming tendency I've read about and would walk into thin air if we didn't stop him.
I just love him and want to thank everyone at Hedgehog Rescue for giving me the chance to enjoy such a lovely pet! I also appreciate all the great advice I've been given by Rach and John.
I'm trying to figure out how to put pictures up and will add them soon.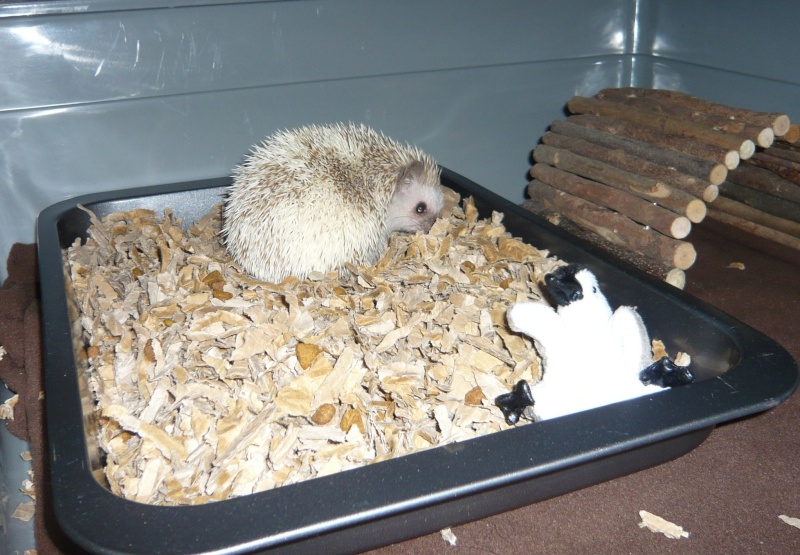 Last edited by alimac on Sun Sep 23, 2012 3:46 pm; edited 2 times in total (Reason for editing : Uploading pictures)

alimac




Posts

: 2


Join date

: 2012-09-23



It is good to hear Tubbs is settling in well.


Rowangate

Admin




Posts

: 1340


Join date

: 2012-08-23



aww he looks amazing - love the piccies!!! Congrats on being owned by your hoggie lol and please pop back every so often to keep us updated on how he goes :-)

animal addict

Admin




Posts

: 12390


Join date

: 2012-08-26



Thanks for the replies. I'll add updates on his progress.


alimac




Posts

: 2


Join date

: 2012-09-23




its lovely to see some pic of him in his new home and i am glad he has settled well for you.
Rach

enola69

Admin




Posts

: 9308


Join date

: 2012-08-22




---
Permissions in this forum:
You
cannot
reply to topics in this forum